| | |
| --- | --- |
| FOR IMMEDIATE RELEASE: | Contact: Governor's Press Office |
| Friday, July 30, 2021 | (916) 445-4571 |
G

overnor Newsom Meets with President Biden and Vice President Harris to Discuss Wildfires in Western States
Governor Newsom emphasizes support for the Bipartisan Infrastructure Deal and federal investments in wildfire efforts
President Biden calls for urgent action to combat the Western Wildfires, further federal investments, and a Climate Action Corps
SACRAMENTO -- Governor Gavin Newsom today met with President Joe Biden and Vice President Kamala Harris to discuss wildfire challenges across local, state and federal agencies. Governor Newsom called for federal investments for additional firefighting personnel, aerial firefighting equipment, more aggressive wildfire response, and long-term access to satellite technology for early fire detection.
Governor Newsom, President Biden and Vice President Harris, were also joined by six additional Governors battling western wildfires, including Brad Little of Idaho, Tim Walz of Minnesota, Greg Gianforte of Montana, Kate Brown of Oregon, Jay Inslee of Washington, and Mark Gordon of Wyoming.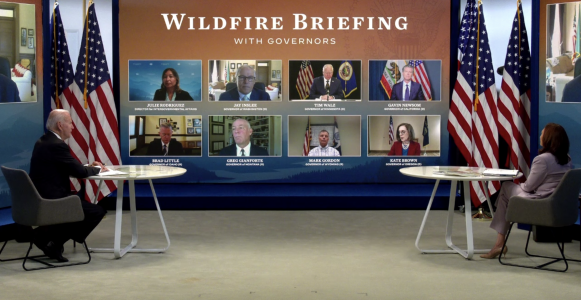 President Biden and Vice President Harris host Governor Newsom and six additional Governors battling western wildfires
"I'm grateful President Biden and Vice President Harris have taken a hands-on approach to combating devastating wildfires across the western states," said Governor Newsom. "In California, we're taking bold steps to address our year-round climate-change-driven wildfire season with historic investments in wildfire resiliency and emergency management. Wildfires know no borders - we need to work together across states and with our federal partners to combat wildfires burning down our forests and destroying homes and critical infrastructure."
Earlier this week, Governor Newsom and Nevada Governor Steve Sisolak surveyed a Tamarack Fire damage area. The Tamarack Fire has burned 68,696 acres on both sides of the California-Nevada border.
Amid unparalleled risk of catastrophic wildfire driven by climate change impacts, Governor Newsom has invested $2.2 billion to build wildfire resiliency and advance emergency response this calendar year alone, the largest such investment in state history. The funding supports additional firefighting crews, new firefighting equipment and expanded land and forest management efforts and builds on the Governor's Wildfire and Forest Resilience action plan, previous budget investments in emergency management, and executive actions to help combat catastrophic wildfires. Additionally, Governor Newsom surged CAL FIRE's firefighting ranks in March by authorizing the early hire of 1,399 seasonal firefighters, and this month supplemented the department's capacities with 12 additional aircraft to fight this year's wildfires.
Last year, Governor Newsom announced the first statewide Climate Action Corps to mobilize Californians to be part of the solutions to address climate change. The first class of Climate Action Corps fellows are focused on projects that advance wildfire resilience, urban greening and food waste recovery. The wildfire cohort is supporting 13 community partners from Butte County down to San Diego in wildfire mitigation activities such as asset and risk mapping, community education and direct fuels reduction.
###